Salary accounts have become extremely common in today's fast-paced environment. We will go over what a salary account is in this article, and How to Open a Salary Account in HDFC Bank along with the advantages of having one with HDFC Bank. Several banks offer their salaried customers a variety of benefits. One of the top private sector banks in India, HDFC Bank, gives its clients a great salary account with lots of advantages.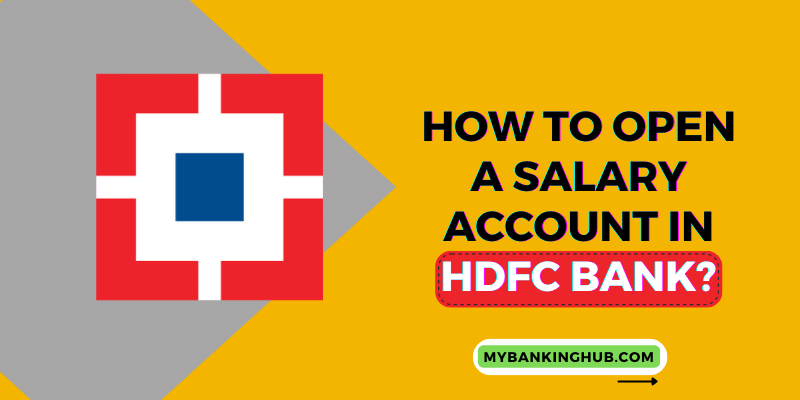 What is a Salary Account?
A specific form of bank account created for those who are paid on a salary is known as a salary account. The employee can easily access the money because the business deposits the employee's salary directly into this account. Due to the lack of a minimum balance requirement, the salary account is also referred to as a zero-balance account. The only purpose of this account is to receive the salary; money cannot be taken out until the salary has been credited.
How to Open a Salary Account in HDFC Bank?
Documents required to open a Salary account in HDFC Bank:
A correctly filled application form to open the account
Proof of identity & address like:
PAN Card
Aadhaar Card
Voter ID Card
Driving License
Passport
An ID card issued by the Central or State Government
Public Sector Units (PSUs) and/or NREGA Job Card
Latest passport-size photographs
Appointment Letter (as proof of employment with the company)
The process to open a salary account in HDFC Bank online:
Step 1: Visit the HDFC Bank official website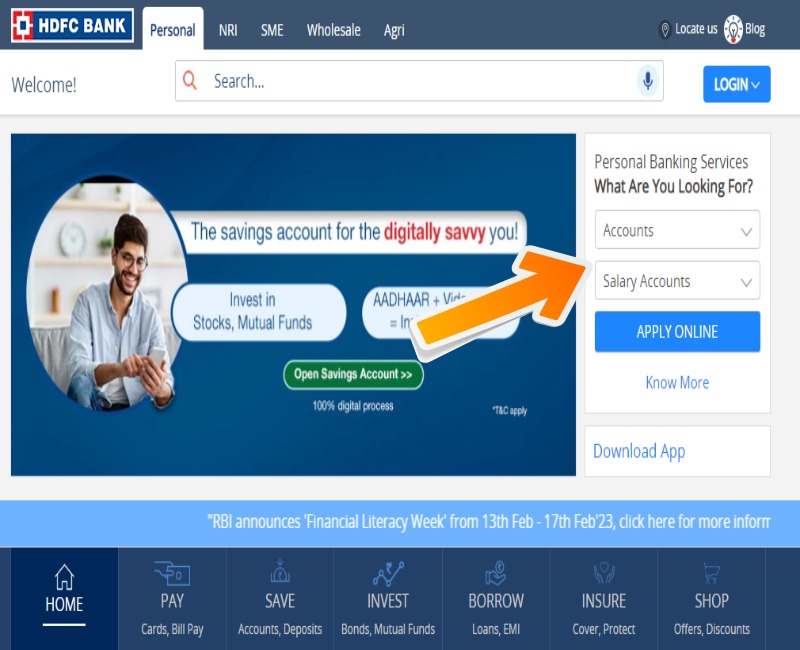 Step 2: Under "Account", select "Salary Account"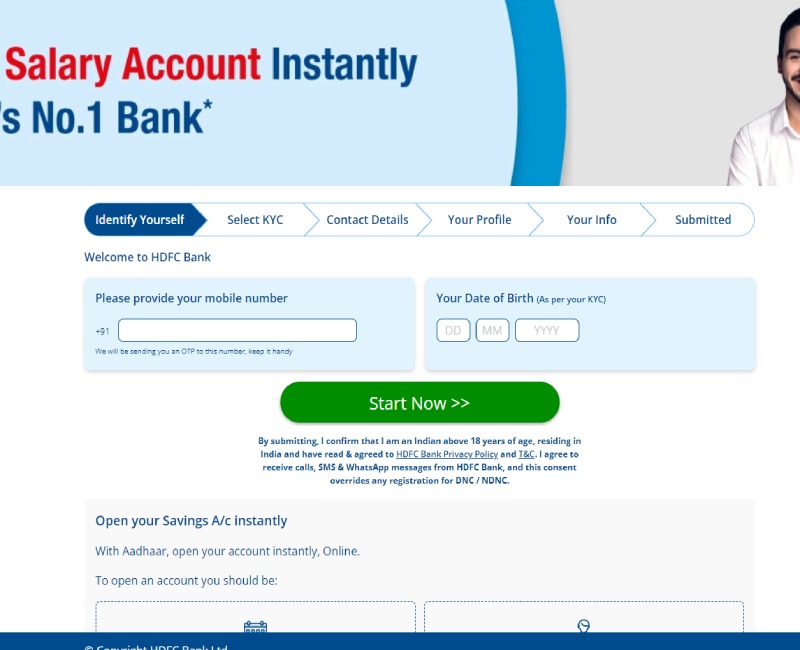 Step 3: Provide your mobile number, DOB, PAN (Permanent Account Number), employee details, and address
Step 4: Select KYC details (Ensure your Aadhar is linked to your mobile number to complete Aadhar-based KYC, you can also choose the option of Video KYC)
Step 5: Once you are done with the KYC procedure you will receive an account confirmation mail shortly and you will be able to use the account.
A full year is allowed for the immediate account. Visit the HDFC branch for a face-to-face Verification to convert it to a Regular Salary Account.
In addition, keep in mind the following when opening a salary account with HDFC Bank:
Depending on the particular salary account variation you select, you might need to keep a minimum balance in the account to avoid penalty charges.
To prevent any delays in the account opening procedure, make sure the submitted documents are legitimate and current.
If you currently have an account with HDFC Bank, you can change it to a salary account by giving the bank the necessary paperwork and information about your pay.
Finally, setting up a salary account with HDFC Bank is a quick and easy process. You may easily open a salary account by following the above-described procedures and taking use of the perks provided by HDFC Bank.
Benefits of Salary Account in HDFC Bank:
Zero Balance Account: The fact that a salary account with HDFC Bank has a zero balance is one of its many perks. The account has no minimum balance requirement, so the holder does not have to worry about keeping a certain amount of money in the account.
ATM Withdrawals: HDFC Bank offers free ATM withdrawals to customers with salary accounts. With this facility, the account holder can withdraw money for free from any HDFC Bank ATM. Moreover, HDFC Bank offers a limited number of free transactions at ATMs operated by other banks, making it simple for account holders to acquire cash.
Debit Card: HDFC Bank offers free debit cards to customers with salary accounts. The debit card can be used to check the amount of the account, make transactions both online and offline, and withdraw cash from ATMs.
Simple Transfers: The salary account from HDFC Bank offers the account holder simple transfer choices. Funds can be effortlessly transferred from one HDFC Bank account to another, to another bank account, or to another HDFC Bank salary account.
Net Banking: HDFC Bank salary account users have access to the bank's online banking service, which enables them to transfer money from the convenience of their homes and monitor their account balance and transaction history.
Mobile Banking: HDFC Bank offers its clients the option of mobile banking for their payroll accounts. The account holder can quickly download the HDFC Bank mobile banking app to their smartphones to access account information, make transfers, and pay bills.
Credit Card: HDFC Bank additionally provides salary account members with the option to use credit cards. The bank offers several credit cards with different perks like reward points, cashback, and discounts.
Loans: Salary account holders at HDFC Bank can easily apply for loans. The bank provides many different loan products, including auto, housing, and personal loans.
Insurance: HDFC Bank salary account customers have access to various insurance products, including health, life, and travel insurance. The bank offers a selection of insurance solutions with thorough protection at affordable prices.
Also Check: How to Open HDFC Bank Account online?
FAQ's
Q: What rate of interest can I earn on balances in my HDFC Bank Salary Account?
You can earn an interest rate from 3.0% to 3.5% per annum.
What is the amount I need to maintain in a Salary Account?
Salary Accounts are zero-balance accounts, therefore there is no minimum balance requirement. As a result, the bank does not impose a fine when your pay account does not maintain the required minimum amount.
Can I use my corporate Salary Account for other purposes?
Yes. You can obtain loans, make fixed deposits, and transfer money using your salary account. Also, you can open Demat accounts and fund Mutual Fund SIPs using the information from your salary account.
Who is eligible for a Salary account in HDFC Bank?
Workers will be eligible if they have a net monthly salary credit of more than Rs. 15,000
Conclusion
Customers of HDFC Bank can take advantage of a salary account's various advantages. Some of the key benefits of having a salary account with HDFC Bank include a zero balance account, free ATM withdrawals, simple transfer choices, online banking, mobile banking, credit cards, loans, and insurance. It is understandable why more and more people are choosing to open a salary account in HDFC Bank given the ease and security it provides. The process of opening a salary account with HDFC Bank is easy.