Are you interested in getting your credit card, but have no idea how to get it? No problem, in this article I will tell you How to Apply Credit Card for HDFC Bank. HDFC Bank offers its customers various ranges of credit cards that give benefits across various categories like travel, fuel, and lifestyle, and for every benefit, they run a different type of credit card.
How to Apply Credit Card for HDFC Bank?
You can easily apply for an HDFC Bank credit card in two ways. One is Online and another is Offline by visiting the bank branch. I will share both methods with you. But, before that, you must check our different types of HDFC Bank Credit Cards and eligibility criteria to become a credit card holder.
HDFC Bank Credit Card Types
HDFC Bank offers various credit cards in the following categories:
Shopping Card
Cashback Card
Rewards Card
Travel Card
Life Time Free Card
Business Card
Lifestyle Card
Entertainment Card
You can choose a Credit Card as per your requirement. Let me tell you one thing, you can apply for an HDFC Bank credit card, online and offline. If you are confused about which credit card would be best for you, you can visit HDFC's official website and can see the benefits of each credit card. Here is the link to the HDFC Bank credit cards section.
Eligibility To Apply For HDFC Bank Credit Card
You must have to fulfill the eligibility criteria in order to apply for an HDFC Bank Credit card. Else, it is sure that your application for credit card will not get approved if you lack any of the mentioned criteria.
Age: Your minimum age must be 18 years when you apply for a credit card.
Income: Your minimum monthly salary has been 10,000 to 12,000 and your annum income has to be 1,44,000 to 25,00,000.
Credit History: A good credit history is a proof that you can manage your credit well. This helps in getting you a Credit Card easily.
Nationality: While applying for a Credit Card in India, you need to be an Indian resident or a Non-resident Indian (NRI)
How To Apply for HDFC Credit Card Online?
Go to the HDFC Bank official website homepage and you will get the Credit Cards Offer section there.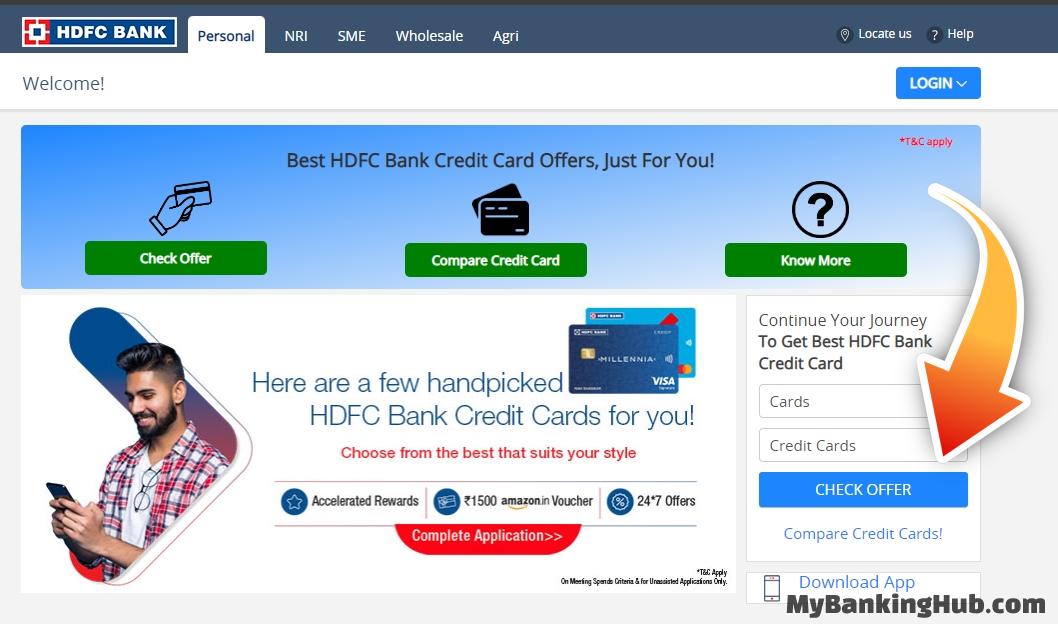 Select the product type ( Card ) and select the product ( Credit Card ) and click on apply online.
Fill in your mobile number and captcha.
Now, fill in your details like PAN number, address, DOB
Check Credit Card Eligibility.
They show you the card for which you are eligible, select the credit card as per your choice, and click on continue.
Your application for a credit card is submitted.
That's it, Now your request is submitted. It's time to wait for the approval, you will receive a call or email once it gets approved or rejected. Credit card approvals can be near-instant but it can take several business days for your physical card to be mailed to you.
Apply For Credit Card n HDFC Bank By Visiting Branch
You can visit your nearest HDFC Bank branch and apply for a credit card using the physical form. You can download that from here:- Application form for Credit Card.
Here is how Credit Card Application Form looks like: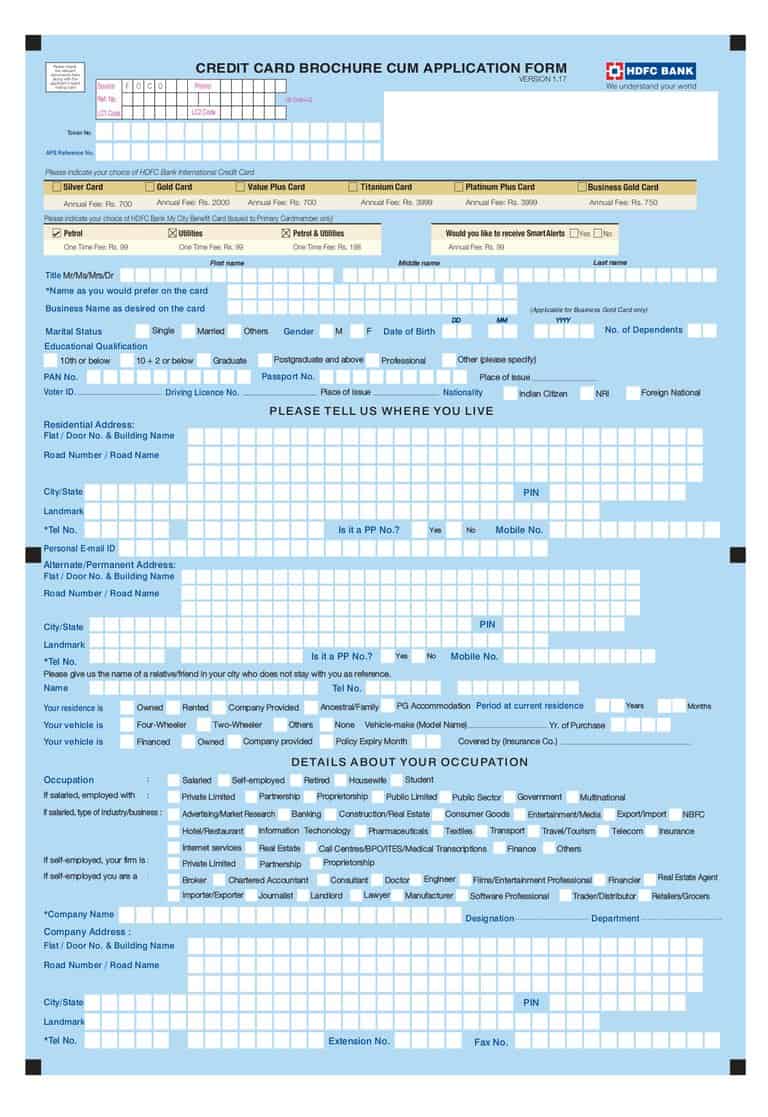 You can check this guide: How to download interest certificate from HDFC Bank?
FAQs
What is the Minimum salary to apply for HDFC Credit Card?
The minimum monthly salary to avail of an HDFC Credit Card is Rs12,000 for a salaried person and between Rs 1,44,000 and Rs 25,00,000 per annum for both salaried and self-employed persons.
HDFC Credit Card Customer Care
If you have any problem regarding your credit card or loans you can call customer care toll-free number 1800 202 6161 / 1860 267 6161.
Also Check:- How to transfer HDFC Bank account to another branch?
Conclusion
So, we have covered How to Apply Credit Card for HDFC Bank in two possible ways. You can simply apply for it online on the official website or you can visit your nearest HDFC Bank branch. Make sure you fulfill the eligibility criteria before applying. If you have any other doubts about HDFC credit cards, you can call on customer care toll-free number at 1800 202 616.