HDFC Bank personal loan is known as the best type of personal loans providers with a low-interest rate. If you are eligible to get a Loan then from HDFC Bank you can get an instant personal loan whether you are a customer of HDFC Bank or not. If you use your personal loan for buying a house or for repairing of house, or for education you will get a tax exemption on the interest amount charged on the loan. You can get a personal loan from HDFC Bank minimum of up to 50,000 to 40 lakh and for this, you will not need any kind of security or collateral. If you are a Pre-approved customer of HDFC Bank then you can get this personal loan in just 10 seconds, others can get it within 4 days. Let's see the documentation or eligibility criteria to get a personal loan from HDFC Bank;-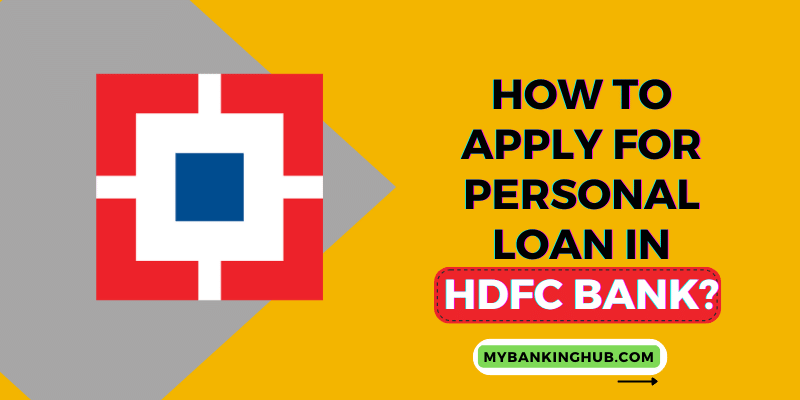 Eligibility Criteria to get a Personal Loan from HDFC Bank:-
Age:- Min. 21 years – Max. 60 years
you must be a Salaried or Self-Employed person.
The minimum income of both salaried and self-employed should be Rs 25,000 per month.
The minimum work experience required is at least 2 years and the applicant must have served with their current employer for a minimum of 1 year.
You can also check your eligibility criteria from here:- Eligibility criteria
HDFC Bank Personal loan Document Required:
KYC Documents
Identity Proof (Aadhar card, Voter's card, Driving License, or Passport)
Address proof
Income Document
Last 3-months bank statement
Two latest salary slip
How to Apply for a Personal Loan in HDFC Bank?
Apply for a personal loan online from HDFC Bank:-
First, visit the official website of HDFC Bank
Now, click on Borrow, select your loan type > Personal Loan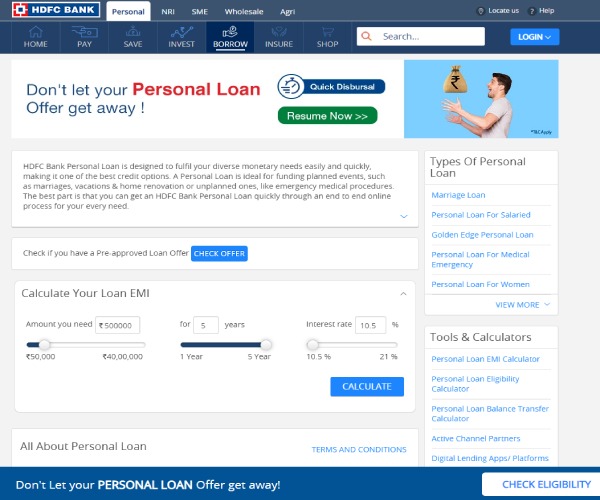 From there you can check your personal loan Eligibility Criteria, You can calculate your Loan EMI.
Further sliding down and clicking on Online Personal Loan Application.
A new page will open, select your employment type > select whether you are a customer of HDFC Bank or not.
Now fill up the required details and upload the necessary documents.
If you are not a member of HDFC Bank you have to visit the branch to verify your documents.
HDFC Bank will go through your application form and on being completely satisfied, it will give you a verification call.
After verification of all details, and documents, they will confirm the final loan amount, personal loan interest rate, and repayment tenure.
Once the bank gets the confirmation from you, the loan amount will be transferred into your bank account.
Important Details related to Personal Loan from HDFC Bank:-
Interest Rate
10.35% p.a.
Purpose
Personal expenses include travel, education, medical emergencies, weeding, etc.
Loan Quantum
Rs. 50,000 to Rs. 40 Lakh
Eligibility Age
Minimum Age:- 21 years old
Maximum Age:- 60 years old at the end of loan tenure
Minimum Income Required
Rs. 25,000 per month
Repayment Tenure
5 years or up to 60 months
Processing Fees
Up to Rs. 4,999 or up to 2.5% of the loan amount
Payment Charges
4% of principal outstanding for 13 – 24 months, 3% of principal outstanding for 25 – 36 months, and 2% of principal outstanding for above 36 months
EMI to be paid each month
Rs. 21,618
FAQ's
Q: What is the minimum salary for a personal loan in HDFC Bank?
Your minimum salary should be Rs. 25,000 net per month to take a personal loan from HDFC Bank.
Q: How much loan can I get if my salary is 15,000?
You will get a loan of around 50,000 to 1,50,00 easily if your monthly salary is 15,000.
Q: How to log in to HDFC personal loan portal?
For new customers:
Step 1: Visit the official website of HDFC,
Step 2: Click on Login > Loans portal > Continue to Loan portal
Step 3: Log in with your User ID and IPIN (if you didn't register already, register first by filling in your required details)
For existing customers:
1. Visit the NetBanking portal of HDFC Bank
2. Enter your customer ID and password and click on continue
3. A web page will appear to change your net banking IPIN when you log in for the first time.
4. Change the IPIN and click on the 'Confirm' tab. The IPIN should be alpha-numeric having 6 to 15 characters.
5. On successfully completing the password-changing process, a page will appear where you can enter the user ID and
the new password to log into the HDFC NetBanking portal and can check your loan details.
Q: How is the personal loan interest rate calculated?
Interest on a personal loan depends on various factors like Repayment history, principal amount, and tenure.
Q: What is the EMI for a 3 lakh personal loan in HDFC Bank?
Q: What is the interest rate for a 5 lakh loan in HDFC Bank?
If you have taken a loan of 5 lakh at an interest rate of 12% for 12 months, then the interest rate for the first month will be:-
5,00,000 x (12%/12) = 5000 per month
Loan Amount x ( Interest rate % / time) = Interest Rate
Now you can calculate your interest rate by using this method.
Q: What are the eligibility criteria to take a personal loan from HDFC Bank?
1. You must be a resident citizen of India.
2. Your age should be between 21 years to 60 years.
3. You must be an employee of a private limited company, or public sector, including central, state, and local bodies.
4. You should have a job for at least 2 years, with a minimum of a 1-year employee with the current employer.
5. Your minimum monthly income should be 25,000.
Conclusion
Now, it's easy to get an Instant personal loan from HDFC Bank. It doesn't matter if you are a member of HDFC Bank or not, HDFC Bank provides you with loans easily. HDFC Bank is known as one of the best banks in India and it is best for a personal loan with a low-interest rate. How to Apply for a Personal Loan in HDFC Bank is one of the most asked questions from people, everyone trusts HDFC Bank when it comes to opening an Account or taking a loan. I hope this article helps you to understand the process of getting a loan from the bank. Now, it's easy to apply you can apply for it while sitting at your home. If you face any problem you can contact HDFC Customer care at 1800 202 6161 / 1860 267 6161.