In today's digital age, many banks are introducing new technologies to make banking easier and more convenient for their customers. One such technology is Video KYC, which allows customers to complete their Know Your Customer (KYC) process through a video call. HDFC Bank is one of the banks that has adopted this technology, allowing customers to complete their KYC process from the comfort of their own homes. In this blog post, we will take a look at the step-by-step process of how to do Video KYC in HDFC Bank.
Video KYC is a quick and easy process that can be completed in just a few minutes. It eliminates the need for customers to visit a branch in person, saving them time and effort. It also makes the KYC process more accessible to customers who may not be able to visit a branch due to location or mobility issues. By following the steps outlined in this guide, customers can complete their Video KYC in HDFC Bank without any hassle. So, let's take a look at how it can be done.
Documents Required For Video KYC:
Original Aadhar Card or PAN Card
A blank white sheet of paper
Black or Blue pen
Good internet connection
The customer should be Indian to complete this process
How To Do Video KYC In HDFC Bank?
Follow these steps to open an HDFC bank saving account with video KYC:
Click on the given link to open a saving account digitally in HDFC Bank: Link Here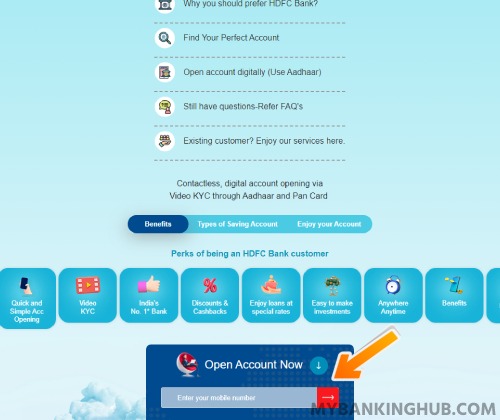 Enter your mobile number. (make sure that your mobile number is linked with your Aadhar Card) and continue
Enter all the details and verify your mobile number.
After verifying your mobile number they ask for the document type for Video KYC.
After submitting all the details, they ask you to do Video KYC.
Before your Video KYC, they will activate your account and send your Account number, IFSC code, and Customer ID.
The link for the Video call will be sent to your Mobile number via SMS, it is valid for 3 days from the time it is generated.
Click on the link to start your Video KYC. The calls can be made anytime between 10 am to 8 pm on all days other than Sundays and Public Holidays.
Allow camera, microphone, and location access.
Let the HDFC Bank official click your photograph, verify your original PAN card, and take your signature once you are connected.
Once the Video KYC is successfully updated, the account will be activated and upgraded to the account of your choice.
Why Banks started Video KYC?
Before COVID people have to visit bank branches for KYC, but when COVID-19 spread in India and the government announced a lockdown, and due to safety reasons people can't visit the branches, then RBI allow Video KYC for people who are not able to visit the Branch. And we can also say that it is a new technology that RBI produces. Because of video KYC now no one has to visit the beach for verification, they can do KYC while sitting at home. It is beneficial for the people who are not able to visit the branch because of maybe illness, or because of some urgent work.
Benefits Of Video KYC in Banks:
Video KYC or Video Know Your Customer, is a process that allows banks to verify the identity of their customers through a video call. This technology has been implemented by many banks in recent years as a more efficient and secure way to verify customer identities. In this article, we will discuss the benefits of Video KYC in banks.
Convenience: Video KYC eliminates the need for customers to visit a bank branch in person to verify their identity. This is especially beneficial for customers who live in remote areas or who have difficulty traveling to a branch. With Video KYC, customers can complete the verification process from the comfort of their own home.
Speed: Traditional KYC processes can take several days or even weeks to complete. With Video KYC, the verification process can be completed in a matter of minutes. This is because the customer's identity is verified in real-time through the video call, rather than relying on paper documents that need to be processed manually.
Security: Video KYC is considered to be more secure than traditional KYC processes. This is because the identity of the customer is verified through a live video call, rather than relying on documents that may be forged or altered. Additionally, Video KYC can use biometric verification methods such as facial recognition to further increase security.
Cost-effective: Video KYC is a cost-effective solution for banks. It eliminates the need for banks to physically verify customer identities, which reduces costs associated with hiring staff and maintaining physical branches. Additionally, Video KYC reduces the risk of fraud, which can save banks money in the long run.
Increased customer satisfaction: With Video KYC, customers can complete the verification process quickly and easily. This increases customer satisfaction and can lead to increased loyalty and repeat business.
It is a secure and efficient solution for banks to verify the identities of their customers. It offers convenience, speed, security, cost-effectiveness, and improved customer satisfaction compared to traditional KYC methods. As more and more customers prefer digital channels for banking, Video KYC is a solution that will help banks in meeting their customer's needs while also maintaining regulatory compliance.
Video Tutorial
Video KYC is a quick and effective option for consumers to complete the Know Your Customer (KYC) process at HDFC Bank. Customers can use this technology to verify their identity using a video call rather than going in person to a bank, saving time. The procedure may be carried out from the convenience of one's home and is quick and simple, taking only a few minutes to finish.
Customers can successfully complete their Video KYC with HDFC Bank by following the instructions provided in this article. The introduction of Video KYC is a step in the right direction toward improving clients' access to and convenience with banking. Customers who might not be able to visit the branch due to location or mobility challenges can also benefit from the time and effort savings. All of HDFC Bank's customers now have easier access to banking thanks to Video KYC.
FAQ's
Can I do Video KYC without visiting the branch?
Yes, customers can update their KYC information by emailing or mailing a copy of their identification and address proof to their bank branch.
How long does it take to complete video KYC?
Video KYC process takes only a few minutes to complete, You will receive approval 24-48 hours after you complete your video KYC,
What happens if I don't complete the HDFC KYC video?
When a link is sent to us via SMS, we have to open the link within 3 days, if video KYC is not completed within 3 days after the link is generated, you should visit the HDFC branch to complete your KYC.
What is needed for Video KYC?
You should bring your Aadhar card, PAN card, or any other government KYC document, maintain silence while on the video call, and maintain a good internet connection.
Does KYC need a physical card for video?
There's only one ID document required during the Video KYC call PAN Card.
Conclusion
Hope you understand the procedure of How To Do Video KYC in HDFC Bank. For completing Video KYC you need a good internet connection, your documents, and a quiet place to talk with the manager without any distractions. There is no need to visit the branch for KYC as you can get it completed at your home comfort.
If still, you have any questions in your mind, feel free to comment and we will reply to you as soon as possible. Still, if you have any inquiries call on HDFC Bank Customer Care Number 1800 202 6161 / 1860 267 6161
More Related Articles: