As per the government orders, FASTag is compulsory for all four-wheelers vehicles for payment at the toll plazas. FASTags are issued by 22 certified banks like HDFC Bank, ICICI Bank, SBI Bank, and Axis Bank, and through various channels at National Highway toll plazas and also at select bank branches. They are also available on e-commerce platforms like Paytm. Now, as per your demand, we will tell you how you can apply HDFC Bank Fastag Online and Offline.
You can buy your FASTag card both online and offline.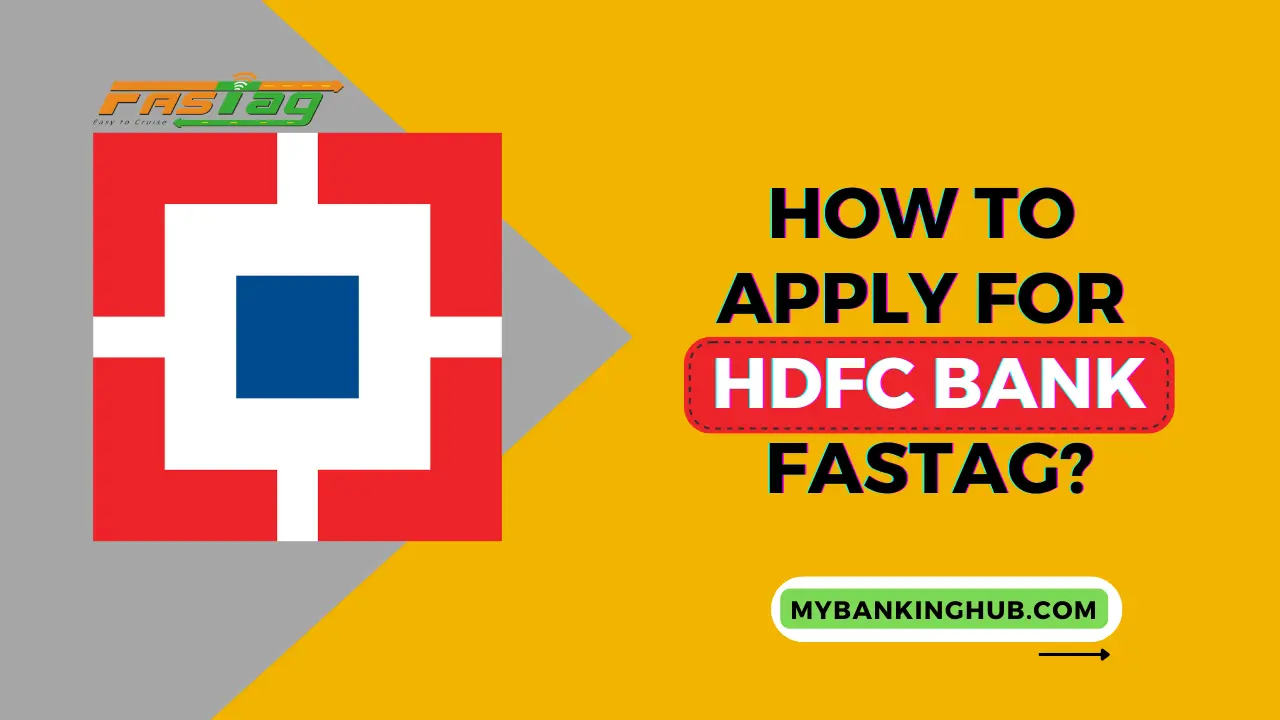 How To Get HDFC FASTag offline?
If you want to buy your HDFC FASTag offline, you need to visit HDFC bank's authorized agent sales office or Point of Sales (POS) locations to get your Fastag account created. For that, you have to carry a copy of your know-your-customer (KYC) documents along with your original documents like an Aadhar card, PAN card, a valid Driving Licence, Registration Certificate (RC) of your car, passport-size photograph of the vehicle owner, with dully filled and signed FASTag Application form.
Read More: How to apply credit card for hdfc bank?
After verifying the documents, the bank will provide you with a FASTag card, which you need to fix on your car's windscreen.
HDFC Bank FASTag Charges and Fees
| | | | |
| --- | --- | --- | --- |
| NPCI Vehicle Class | Description | Security Deposit (in Rs.) | Threshold Amount (in Rs.) |
| 4 | Car/ Jeep / Van / Tata Ace and similar mini light commercial vehicle | Rs. 100 | NIL |
| 5 | Light Commercial Vehicle | Rs. 300 | Rs. 200 |
| 6 | Bus 3 axle | Rs. 400 | Rs. 500 |
| 6 | Truck 3 axle | Rs. 500 | Rs. 500 |
| 7 | Bus 2 axle/ Mini Bus / Truck 2 axle | Rs. 400 | Rs. 500 |
| 12 | Tractor/tractor with trailer, truck 4, 5 & 6-axle | Rs. 500 | Rs. 500 |
| 15 | Truck 7-axle & above | Rs. 500 | Rs. 500 |
| 16 | Earthmoving/heavy construction machinery | Rs. 500 | Rs. 500 |
Now, let me tell you how to apply HDFC Bank FASTag online in a step-by-step tutorial.
How To Apply HDFC Bank FASTag Online?
For applying HDFC Bank FASTag online just follow these easy steps one by one:
Step 1: Open Google Chrome and search HDFC Fastag or simply visit this link directly – Buy FASTag Online.
Step 3: Click on "Apply Now".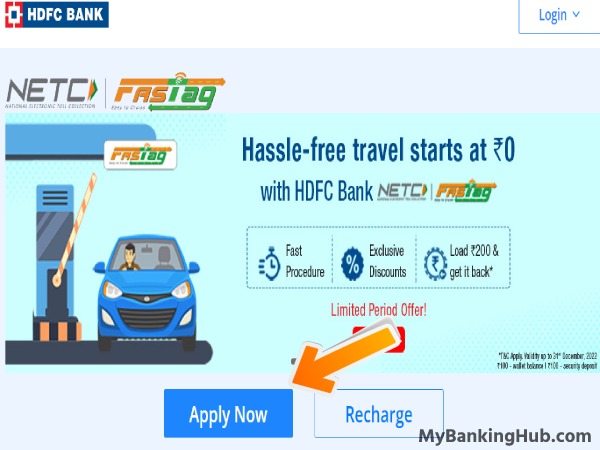 Step 4: Enter your Mobile Number and PAN Card number.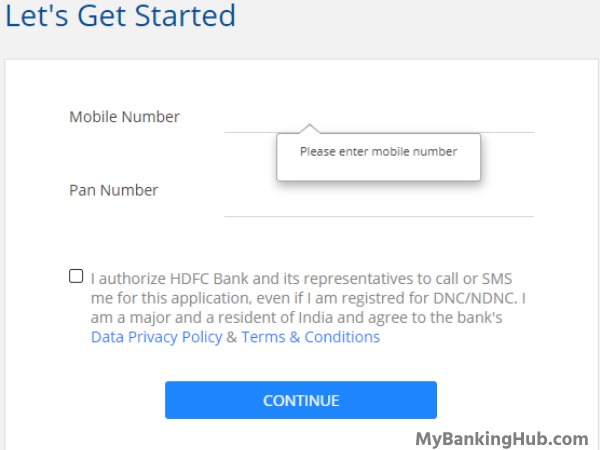 Step 4: After verifying your mobile number, enter your personal details and continue.
Step 5: Enter your vehicle details > Continue and again verify your mobile number. And verify your all details and submit
Step 6: After verification they will ask you for payment method, pay the required amount, and your registration is completed.
Step 7: Your FASTag Customer ID and RFID number will be sent to your mobile number.
Step 8: Now, Login at HDFC FASTag Customer Portal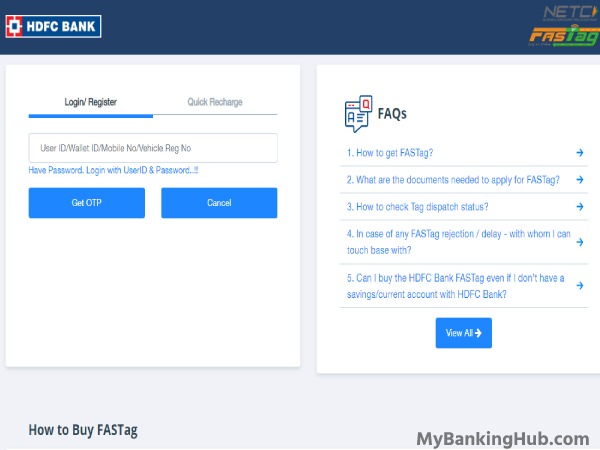 Fill in your details.
Make the payment for Delivery Charges and have the FASTag card delivered to your doorstep.
Video Tutorial
You can check this guide: How to apply for a personal loan in HDFC Bank?
FAQs
Can I get FASTag immediately at HDFC Bank?
Yes, at any of the point of sales (POS) locations of HDFC or HDFC Bank authorized agent sales office, you will get the FASTag card immediately. You can call customer care at 1800-120-1243 to know more details.
Can I apply for a new FASTag online?
Yes, you can apply for a new fastag via HDFC Bank website.
Open HDFC Fastag website link – Click Here
Click Apply Now, and enter your Mobile Number & PAN Card.
Fill in the Vehicle information, and make payment to the application.
Now, log in to the portal and pay the delivery charges.
Now, the FASTag card will be delivered to your doorstep in a few days.
Can I use one FASTag for two vehicles?
No, you need to have two different FASTags for two different vehicles. You cannot use the same FASTag for two vehicles.
How to recharge my HDFC FASTag?
You can recharge your HDFC FASTag Via:
Any UPI App Like Phonepe or Paytm.
HDFC NetBanking
HDFC Mobile Banking App
HDFC Bank PayZapp App
My FASTag App
Recharge Through Cash at Toll Plaza
Can I use FASTag without a sticker?
No, you have to attach the FASTag sticker to your vehicle for using it.
Also Check:- How to change address in HDFC Bank account?
Conclusion
We present everything that you need to know about How to apply for HDFC FASTag. Hope this article helps you to understand it in a very clear way. If you still have any queries please let me know in the comment section. You can call customer care at 1800-120-1243 if you still have any problems regarding HDFC FASTag.