Keep in updated your bank account details is very important, whether it's your mobile number, your address, or your Email ID. Any notification related to our bank is sent to us on our mobile number or email Id, so for any reason if you want to change email ID in your HDFC Bank account but you are facing trouble in doing it, then in the further slide, I will help you that how you can change it. Just follow these simple steps, and it will be easier for you to change your Email ID.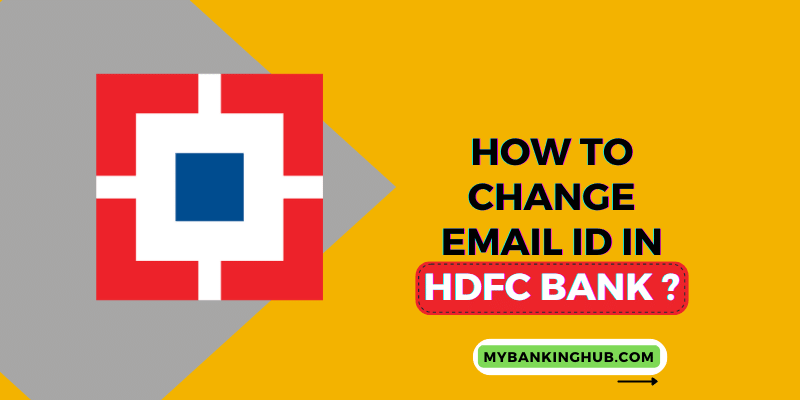 Documents required to change email id:-
Application form filled with your details
Copy of your original ID proof ( carry your original ID Proof for further use)
How To Change Email ID in HDFC Bank
For security purposes, HDFC has not come out with any method of changing your Email ID online, you have to visit the HDFC branch to alter your Email ID. HDFC Bank is known as the most trustable Indian Bank, their first priority is their customers, and they maintain their customer's privacy and security first then take any other steps.
Here is the process for updating your Email ID at an HDFC Bank branch:-
Firstly, download the Application form to change the Email ID:- Application Form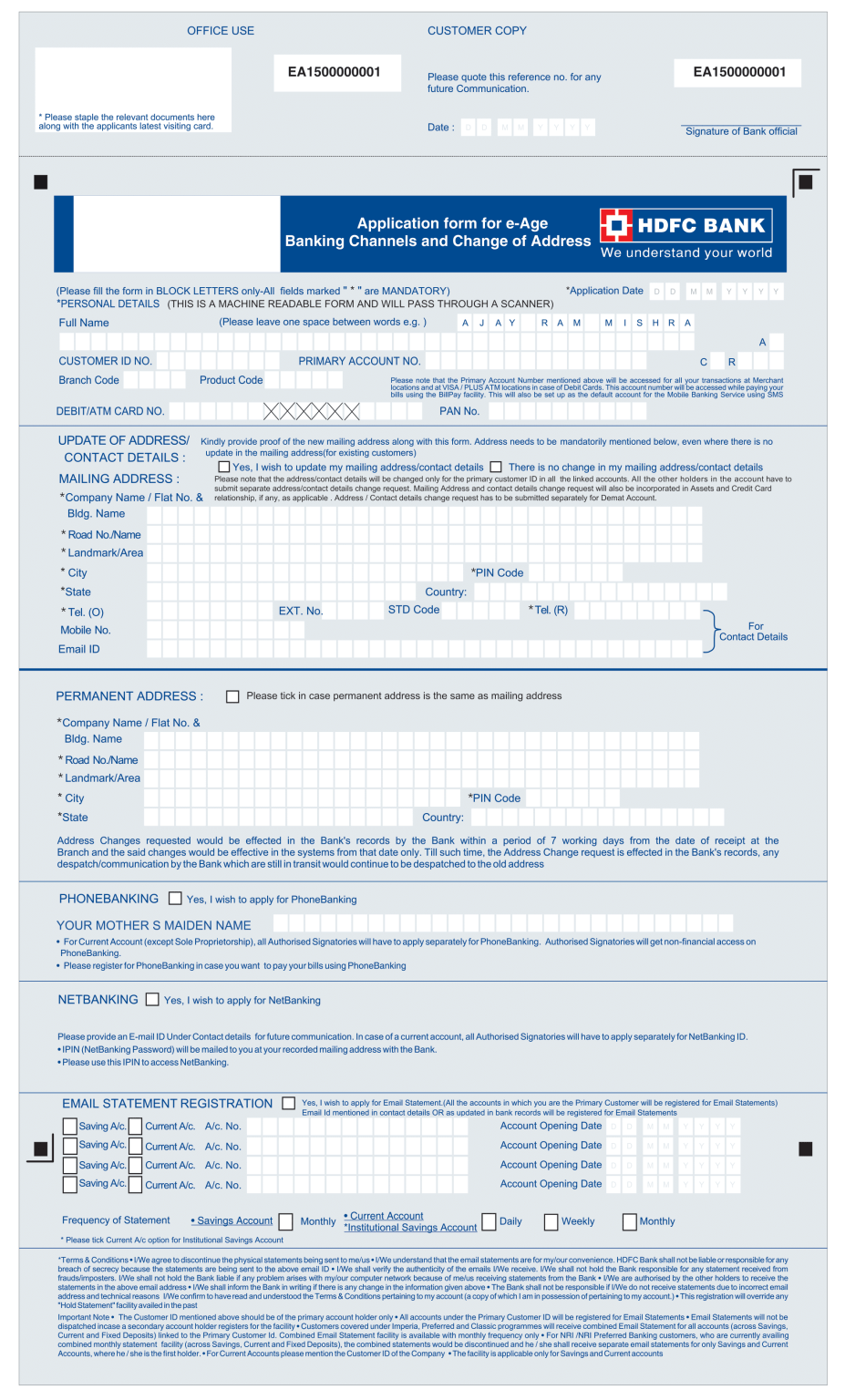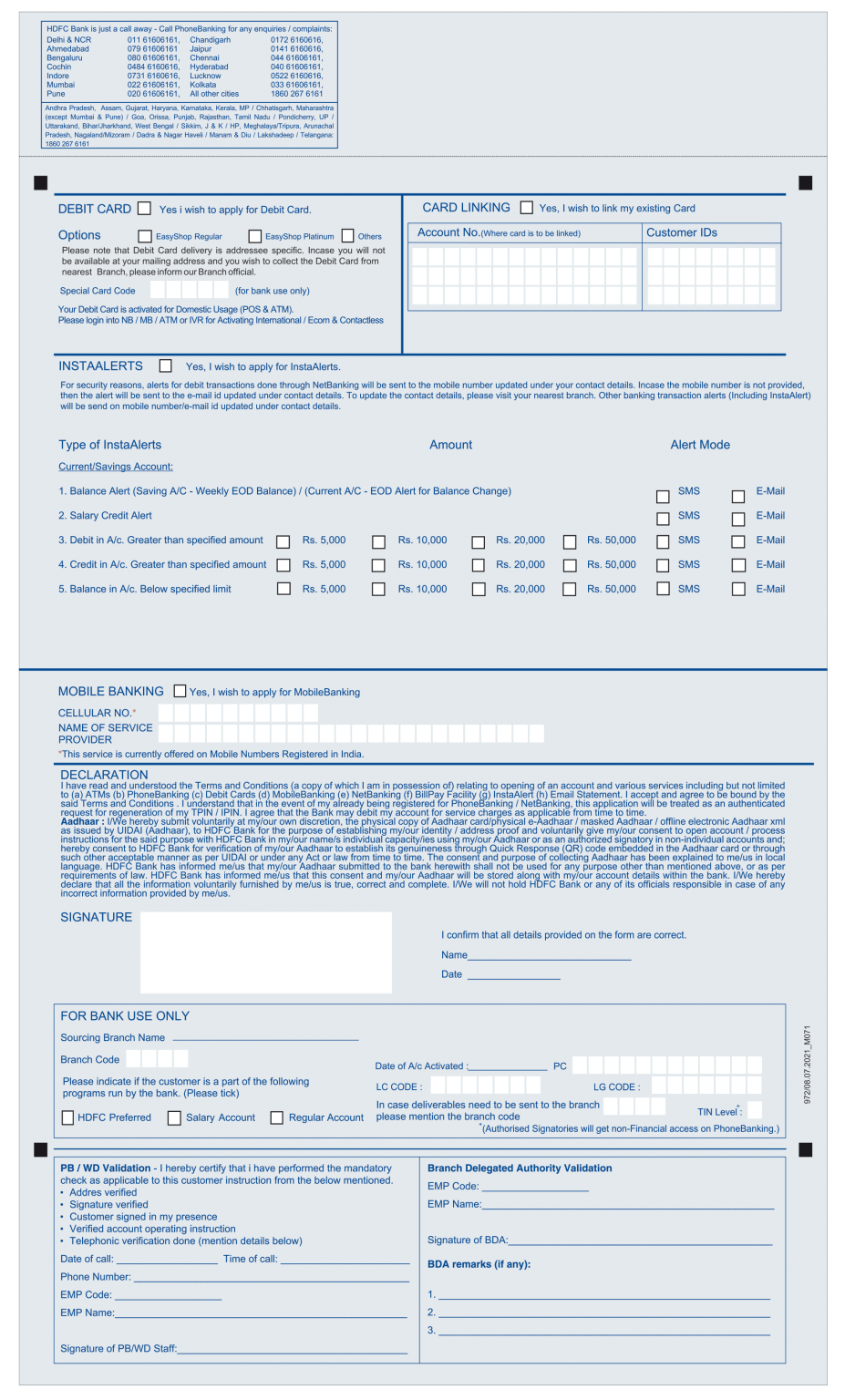 Attach a copy of your ID proof (please carry your original ID proof with you for further use) with your application form and sign the form with your registered signature.
Now visit the nearest branch of HDFC and submit your application form.
After submitting the form, a bank employee will verify your details, and within 6 to 7 working days, your Email ID will be updated.
Why Email IDs are important in Bank Accounts?
It has lots of benefits, we get an email statement, and our account details on email id. Email ID is usually used to send important account information, OTP, transition alert, and notifications. It is often used as means of communication between the bank and the account holder. Additionally, an email id is used to reset the forgotten password or to recover a lost account. It can also be used for online banking and other digital services provided by the bank. In case you have forgotten your Bank Account number you can get it via email. So, keep your latest Email ID updated in your bank account.
Read More:- how to get foreign currency from HDFC Bank?
Benefits of registering Email ID in HDFC Bank:-
Email IDs play an important role in our bank account documents. Let's see the benefits of registering an Email ID in HDFC Bank:-
Easy communication: The bank can send account-related information, updates, and alerts to your registered email ID or you can email your queries, if you face any problem in your account you can send them via email.
Online banking: You can use your registered email ID to log in to the bank's online banking portal and access various banking services.
E-statements: your monthly statements or email statements will be received on your email ID. You can get exclusive offers and discounts on various products and services by providing a registered Email ID. The old record of statements if required for any purpose can be obtained.
Easy transaction tracking: You can track your transactions and account balance through email notifications. you will be able to get your transaction alert notification Via email.
Convenience: It's a secure and convenient way to access your account information and conduct transactions without visiting the bank branch.
FAQ's
How can I register my Email ID in HDFC Bank?
There are 3 ways to register your email id in HDFC Bank:-
By NetBanking
By visiting the HDFC Branch bank
By HDFC PhoneBanking
By NetBanking:-
Firstly, log in to your HDFC NetBanking.
Under the Request section, click on Email Statement
Now, follow the instructions given there.
By Visiting HDFC Branch Bank:-
Firstly, download the E-age form,
Now, complete the form and submit it to the nearest branch of the HDFC.
By HDFC PhoneBanking:-
Validate your Telephone Identification Number (TIN). This is a 4-digit number that is provided by HDFC Bank for accessing PhoneBanking Service,
Use telephone service to request email statements.
How many days it will take to change the email id in HDFC Bank?
It will take 6 to 7 working days to change your email id in HDFC Bank.
How to change your email id in HDFC bank through an ATM?
There is no way to change your email id through an ATM, you have to visit the HDFC branch for changing your email id.
How Can Change my Email ID in HDFC Bank online without NetBanking?
There is no way to change your email ID online, you must have to visit the branch of HDFC to update your email ID.
Can I Get HDFC Bank Account OTP by Email?
yes, after successfully updating of email id, you will receive all updates to your registered email id.
Conclusion
I hope you understand How you should apply the form to change your Email ID. Most people get confused that, How to change Email ID in HDFC Bank, I hope this article helps you to solve your confusion and now you understand it very well. If you still have any problems without hesitation please let me know, I will try my best to solve your confusion or queries. If you have a query about how to open an HDFC Bank account online, have a look here.
If you have any inquiries call on HDFC Bank Customer Care Number 1800 202 6161 / 1860 267 6161.