HDFC Bank holds the status of being India's most trusted bank. Many people think that it is the best bank for salary accounts. The bank offers a free personal accidental health cover of Rs 1 lakh to its salary account holders. If you are a member of HDFC Bank then you would know what benefits HDFC Bank offers to its customers.
There are some rules in HDFC Bank, whenever you want to send money from HDFC Bank to another bank account or to transfer funds then you are required to add a bank beneficiary to your account. A beneficiary is a person (or entity) who is designated to receive the benefits of property owned by someone else. So, if you want to add your beneficiary then, it's a simple step. Let me tell you how you can add your HDFC Bank Beneficiary.
How To Add Beneficiary to HDFC Bank
There are various methods to add beneficiaries to HDFC Bank:-
By Net Banking
By Mobile App
By visiting HDFC Branch
Let's understand each method with a detailed analysis:-
Via HDFC Net Banking
Then go to Fund Transfer>Request>Add a Beneficiary.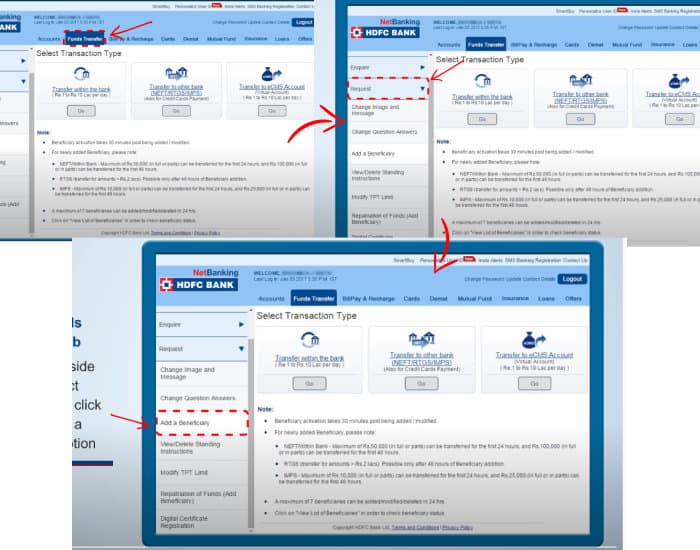 Select your transition type and click on the "GO" icon.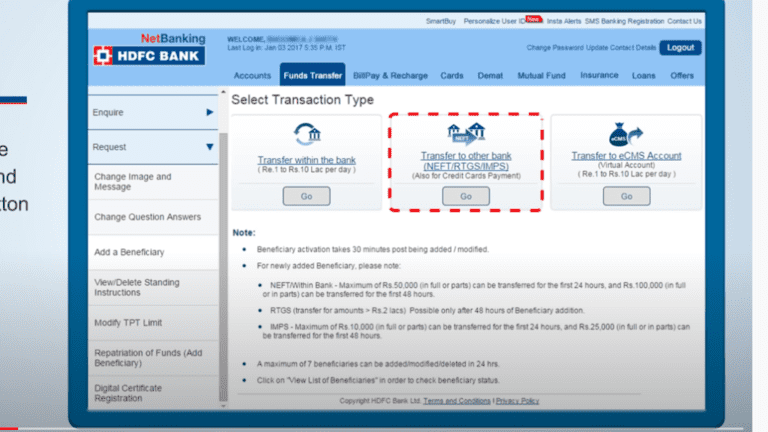 Fill in all the required details of your beneficiary (Bank account number, IFSC Code, etc.)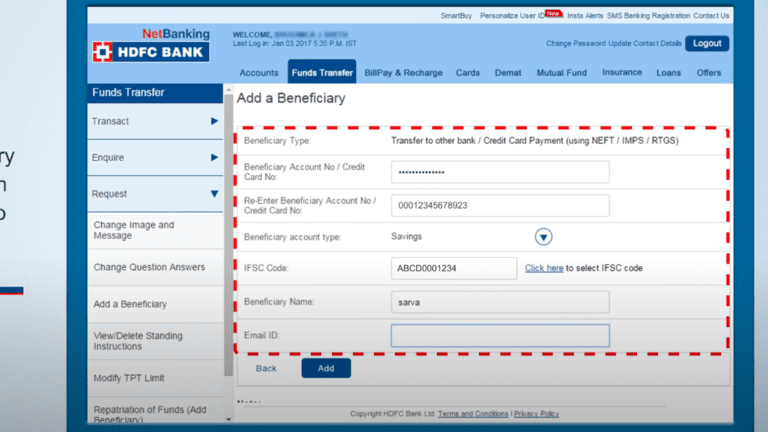 Hit the submit button, after submitting an OTP gets generated to your registered mobile number and email ID. Confirm your number.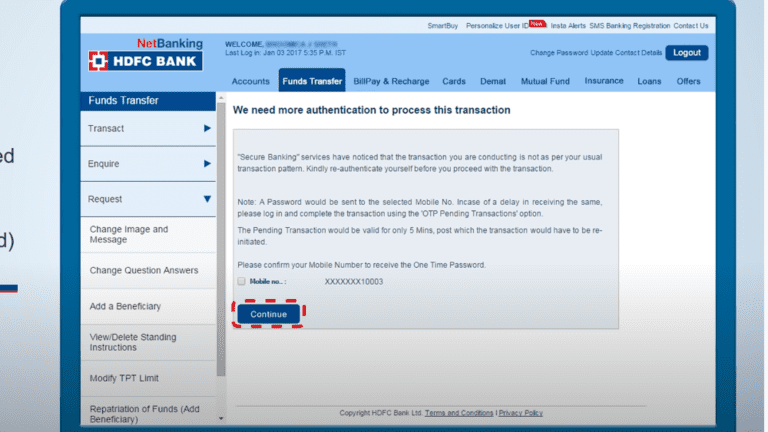 You then successfully raise a request with HDFC Bank to add a beneficiary to your account. The beneficiary is added as soon as the bank approves your request.
Via Mobile App
Use your smartphone to add beneficiary to your HDFC Bank account.
First, log in to the HDFC Bank Mobile app,
Now choose "Add Beneficiary" from the "Transfer" menu
Select transition type,
Fill in the beneficiary's details.
Now verify the information and click submit.
You will receive an OTP to your registered mobile number to verify your number.
After 24 hours, the beneficiary will be added to your account and you will be eligible to transfer money.
By Visiting Branch
Visit the nearest branch of HDFC with your valid ID
Consult the bank employee that you want to add a beneficiary to your bank account.
They will provide you with a form, fill in the form with correct and valid details.
Submit the form to the same bank employee, they will verify your details and then they will start the procedure to add a beneficiary to your account.
The beneficiary will be included in your bank account and then you will be able to transfer the money after 24 hours.
You have to remember that you won't be able to transfer the money until 24 hours passed. Due to security purposes, banks and customers have to follow this rule. And please recheck your details before submitting the form or submitting it on NetBanking or the mobile app.
FAQs
How Long does it take to add beneficiaries to HDFC Bank?
When you add a beneficiary, it will take a minimum of 30 minutes to activate the beneficiary.
How do I add an account to my beneficiary?
You can add a beneficiary to your HDFC account via Net-Banking or Mobile Banking. Log in to Internet Banking or Mobile Banking. Click on 'Add beneficiary' under the 'Fund Transfer' tab. Enter beneficiary account details like their name and bank branch and name, bank account number, IFSC code, and mobile number, and click on submit.
Can we add beneficiary on the HDFC app?
Yes, you can add beneficiaries on the HDFC App. Log in to HDFC Mobile App Transfer>Add Beneficiary, fill in the required details and submit the form.
How do I add beneficiary in HDFC Bank Online?
You can add beneficiary to HDFC Bank Account online with 2 methods:
NetBanking
HDFC Mobile App
How much can I transfer after adding beneficiary in HDFC Bank?
You can transfer a maximum of 25,000 by IMPS in the first 24 hours. After 24 hours, the maximum limit per transition is 5 Lakh.
How many beneficiaries I can add to my HDFC Bank Account?
Through NetBanking or HDFC Mobile App, you can add a maximum of 20 beneficiaries to your HDFC Bank Account.
Also Read:- How to do Video KYC in HDFC Bank?
Conclusion
We have to add the beneficiary to make any transfer including IMPS and NEFT. I hope you are now able to add beneficiaries to your HDFC account. It's a really simple step. The only thing you need to add beneficiary is your beneficiaries bank account details. To open the current account is easy also it is simple with HDFC Bank also there are no charges applicable. Hope you have a good experience with HDFC Bank. Let me know if you have any problems regarding HDFC Bank.