HDFC Bank offers forex services like transferring money to India, making payments, get foreign currency from HDFC Bank. If you are an HDFC bank customer you can get foreign currency cash in 15 global currencies for your international travel. HDFC bank's foreign currency cash service is convenient, smart, and hassle-free. So, if you are a customer of HDFC Bank and planning for your international trip, then let me tell you the process by which you get other country currency.
Make sure that you are an account holder in HDFC Bank if you want Foreign currency from HDFC Bank.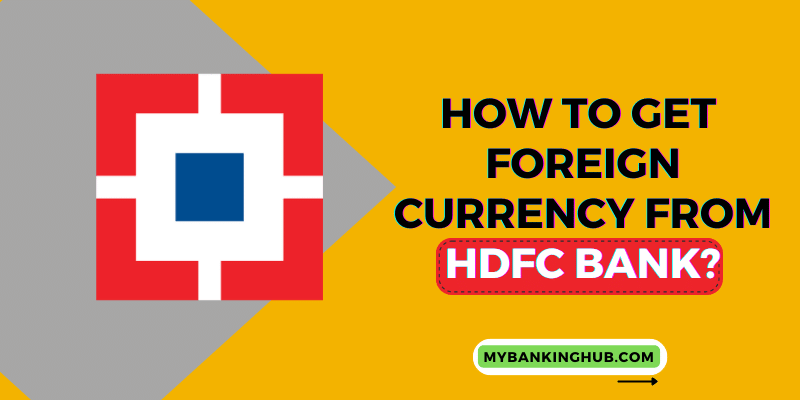 Documents required for getting foreign currency from HDFC bank
Passport
PAN Card
Return Flight Tickets
Visa
How to get Foreign Currency From HDFC Bank
Follow these steps to get foreign currency from HDFC Bank:
First, download Form A2 of HDFC Bank.
Fill up the form and visit the nearest branch of HDFC Bank with the xerox copy of the required documents.
Submit the form to the bank manager.
Hand over the money that you want to exchange into foreign currency. You can pay by cash, cheque, or transfer from your HDFC Bank account.
After the payment has been processed, you will receive your foreign currency. The bank representative will give you an exchange rate and inform you about any fees and charges associated with the transaction.
You will be required to sign a declaration form acknowledging the terms and conditions of the transaction and attesting to the accuracy of the data you have provided.
It's crucial to keep in mind that the procedure for obtaining foreign currency from HDFC Bank may differ based on the nation and area, therefore it's best to contact your local branch for specific information and requirements.
Range of Currencies

:
UAE Dhiram
(AED)
Australian Dollar
(AUD)
Canadian Dollar
(CAD)
Swiss Francs
(CHF)
Thai Bhat
(THB)
Japanese Yen
(JPY)
Malaysian Ringgit
(MYR)
New Zealand Dollar
(NZD)
Omani Rial
(OMR)
Euro(EUR)
Great Britain Pound
(GBP)
Hong Kong Dollar
(HKD)
Saudi Riyal
(SAR)
Singapore Dollar
(SGD)
United States Dollar
(USD)
Range of 15 Global Currencies that are Available in HDFC Bank
Fees and Charges in HDFC Bank for international transaction
HDFC Bank does not charge any fees for international transition, only GST charges will be levied.
GST charges:
| Amount of currency exchanged (ACE) | GST rates | Minimum GST | Maximum GST |
| --- | --- | --- | --- |
| Upto Rs. 1 lakh | 0.18% of ACE | Rs. 45 | Rs. 180 |
| Between Rs. 1 lakh and upto Rs. 10 lakh | INR 180 + 0.09% of ACE | Rs. 180 | Rs. 990 |
| Above Rs. 10 lakh | INR 990 + 0.018% of ACE | Rs. 990 | Rs. 10,800 |
Why do we need Foreign Currency?
Every country has a different currency, just like India's currency is Rupee, United State's currency is Doller, same as the different country has different currencies. Whenever we go on international trips we must have the currency of that country because Indian currency will not be usable there. The currency of that particular state will allow you to make purchases and access local services while abroad in that country. So, it is really necessary to exchange your domestic currency for the currency of the state you are visiting.
Also Read:- How to Activate HDFC SMS Banking?
FAQ's
Can I get foreign currencies from HDFC Bank?
Yes, HDFC Bank branches have Forex services that let you buy foreign currencies. It provides you with 15 different global currencies.
How much does HDFC charge for international transition?
3.5% + applicable taxes on foreign currency transactions carried out on Debit Cards. The exchange rate used will be the VISA/MasterCard wholesale exchange rate prevailing at the time of transaction/merchant settlement.
Can I use my HDFC Debit card internationally?
Yes, you can use your HDFC debit card internationally, you need to activate your HDFC Bank EasyShop International Debit card or you can activate your HDFC EasyShop Platinum Debit Card.
Which HDFC ATM card is best for international?
HDFC EasyShop Platinum Debit Card is best for international. You can use this card for different purposes like education, shopping, electronics, airlines, medical, insurance, travel, tax payment, etc. This debit card makes your spending easy by offering cash back.
What documents do I need to exchange money?
Documents required to exchange money:
A valid passport
A valid Visa for the country you are traveling to.
Confirmed tickets
PAN card
Aadhar card
Can I do international transactions with HDFC Bank?
Yes, you can do international transactions with HDFC Bank. You can activate international usage by logging into the HDFC NetBanking website by using your customer id and password or by calling customer care. The fees for HDFC Bank international debit cards will depend on your debit card type.
You can check this guide:- How to apply for HDFC Bank credit card?
Conclusion
It's really easy to get Foreign currency from the bank, make sure to carry your all documents with you when you visit the branch. The bank representative is knowledgeable and will assist you with the process, ensuring that the transaction is completed smoothly and efficiently. I hope your question about How to Get Foreign Currency From HDFC Bank is solved and now you can easily get foreign currency and you have a Safe Journey. Please let me know if you have any other doubts related to Banks.