Close ICICI Bank account is an easy process regardless of why you want to do it—whether you are switching banks, want to consolidate several accounts, or just no longer need the account. To prevent paying any additional taxes or penalties, you must, however, make sure that you take the proper measures. You will find instructions on how to close your ICICI Bank account on this page. We will also advise you on how to streamline the procedure and stay clear of frequent traps that could result in delays or other issues.
First and foremost, bear in mind that while closing an ICICI Bank account is not a difficult process, it does involve some planning and preparation. Before you may move forward with the closure, you must make sure that all pending transactions have been finished and that your account balance is zero.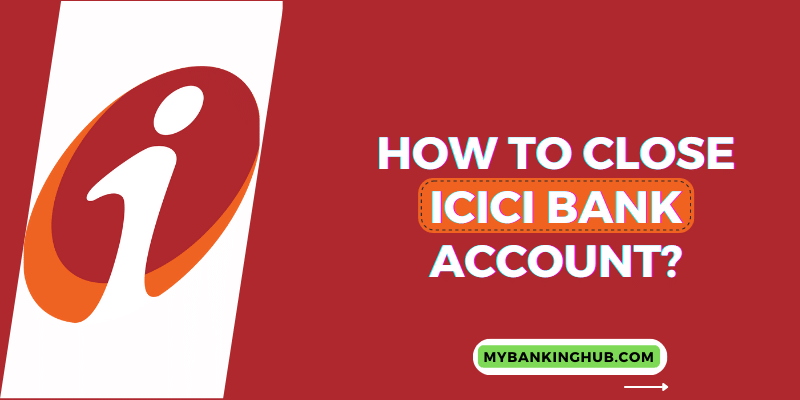 Before starting the explanation of How to close an ICICI Bank Account, I will let you know that there is no online procedure for a closing account in ICICI Bank you have to visit the branch for the processes.
How to Close ICICI Bank Account?
Step 1: Visit the nearest branch of ICICI Bank.
Step 2: Ask for an account closer form.
Step 3: Fill the form with your required details.
Step 4: Attach your KYC Documents ( PAN card or any identity proof, proof of your address) with the form.
Step 5: Submit your chequebook, passbook, and debit card with the form.
After verifying your documents the bank employee will proceed with further process of closing your bank account.
Here are some tips to avoid issues while closing ICICI Bank Account:-
Verify the Minimum Balance Requirement: To avoid any fines or charges, make sure your account balance is below the minimum balance required before starting the account closure procedure.
Clear all outstanding payments: Before closing the account, make sure that all outstanding payments have been made, including any pending EMI payments, credit card balances, or other outstanding dues.
Delink All Connected Accounts: Before closing your primary account, make sure to delink any linked accounts, including savings accounts and fixed deposits.
Finish the formalities: To prevent any delays or inaccuracies, accurately complete the account closing form and deliver all necessary paperwork to the bank.
Give the Bank All Unused Cheques, Debit Cards, and Passbooks: In order to prevent misuse or fraud, give the Bank All Unused Cheques, Debit Cards, and Passbooks as you close your account.
Check Your Account Balance to Make Sure It's Closed: After starting the account closure procedure, ensure your account is closed by looking at your account balance. In order to settle any anomalies, get in touch with the bank right away.
Closing charges of ICICI Bank:
Types of Account charges
Charges
ICICI Common Savings Account Closure Charges
No charges for closing within 30 days of account opening.
Rs. 500 for closure from 31 days to one year.
no charges after one year of account opening.
ICICI Current Account Closure Charges
Within 14 days- NIL
After 14 days to 6 months – Rs. 1000
After 16 months – Rs. 500
ICICI Demat Account Closure Charges
NIL
FAQ's
Can I close my ICICI Bank account online?
To close the account in ICICI Bank you have to submit the form at the bank branch. As for now, there is no online procedure ICICI account.
What documents are required to close the ICICI Bank account?
You need an account closer form, which will provide to you by the bank employer at the bank branch, and you need to submit all the bank documents like a chequebook, passbook, debit card, and credit card.
Can I close my bank account anytime I want?
Yes, you can, but sometimes your bank or credit union may require you to settle your balance before allowing you to close your account that is overdrawn.
Are there any charges for closing the ICICI Bank account?
If the account holder thinks to close his/her bank account after six months of their account opening, then ICICI bank levies a charge of 500 INR as its account closer fee.
Conclusion
To ensure an easy and hassle-free process, closing an ICICI Bank account requires adhering to a few basic steps. It is advised to withdraw any remaining money and stop any auto-debits associated with the account first. The next step is to complete an account closure form, which you can do online or in person at a nearby branch. Ensure that all relevant cards and paperwork are returned to the bank after the form has been submitted. It's crucial to keep in mind that canceling an account prior to the minimum balance period may result in fees or penalties. You can properly shut your ICICI Bank account according to these instructions and be aware of any potential fees.